Expert deciphers Putin's latest threats to Ukraine

Expert deciphers Putin's latest threats to UkrainePresident of the Russian Federation earlier stated that any escalation g in Donbas during FIFA World Cup 2018 hosted by Russia would have grave consequences for the Ukrainian statehood.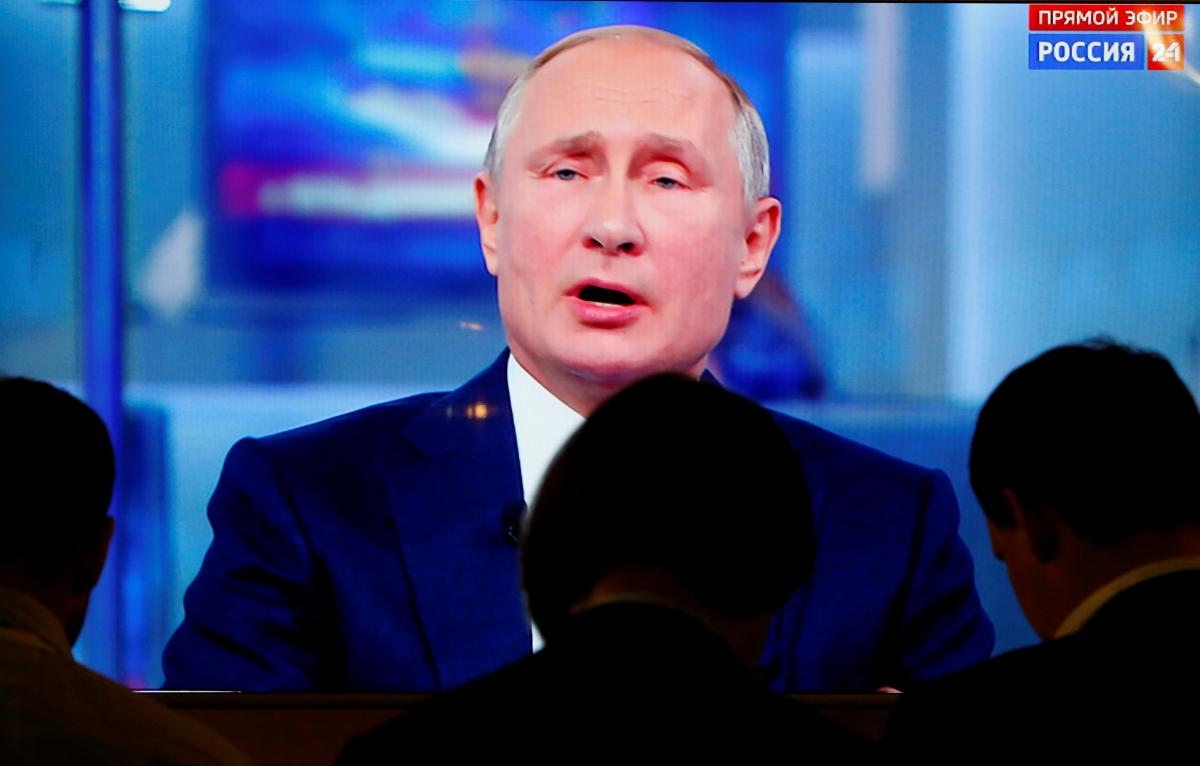 REUTERS
The Kerch Strait Bridge, where Russia recently launched traffic, allows the aggressor state to drastically improve military logistics into the occupied Crimea, according to Andriy Klimenko, head of the supervisory board at the Maidan of Foreign Affairs Foundation, expert on Crimea, editor-in-chief at BlackSeaNews, who took part in an online chat with the audience of the Glavred media outlet.
He stressed that previously, tanks, armored vehicles, missiles, trailers and personnel could be transported to Crimea only by ferry, which involved loading on Russia's Taman Peninsula, crossing the Kerch Strait only in favorable navigation periods, then unloading in Kerch, and further deployment across the territory of the annexed peninsula.
Read alsoPutin promises "drastic consequences for Ukraine's statehood" if it tries to liberate Donbas
"Now all these loading and unloading operations of military equipment and personnel are no longer needed. They can quickly deploy in Crimea everything necessary and further build up their [military] grouping in Crimea," explained Klimenko.
The expert recalled that during the latest Q&A, Putin said that in case of an escalation in Donbas, this will have "grave consequences for the Ukrainian statehood as such." The expert also noted that during the Crimea occupation back in 2014, women and children were put in front of Russian troops as the latter started blocking Ukrainian Navy and Army bases in Crimea.
Read alsoRussia start s large-scale military drills in occupied Crimea
"In this case, it won't be about creating a corridor to Crimea through Mariupol and Berdyansk - in this case it will be about [invading] part of Ukraine along the Dnipro's left bank, that is, the seizure of entire Donetsk, Dnipropetrovsk regions and parts of Zaporizhia and Kherson regions, to say the least. It was no coincidence that Putin talked about "grave consequences for the Ukrainian statehood as such." That is, he threatens the entire Ukraine with aggression," Klimenko stressed.
If you see a spelling error on our site, select it and press Ctrl+Enter Latest news
12:00 Protest by MH17 families: 298 empty seats in front of Russia embassy
11:00 Militants suffer losses trying to knock Joint Fo rces off their positions in Donbas
10:00 Expert deciphers Putin's latest threats to Ukraine
08 June, Friday
23:10 Ukraine lost $100 billion over Russia's aggression in Crimea, Donbas: report
22:30 UN Rapporteur on torture visits occupied Donbas: talks with 4 captured UA soldiers under supervision
21:40 Inflation in Ukraine slows to 11.7% in May in annual terms
21:00 Five American KC-135 Stratotankers land in Lviv for drills (Photo)
20:30 EU's Tusk calls on G7 to save Sentsov's life
19:50 Ukraine suggests real reason behind Russian navy maneuvers in Black Sea
19:10 National Bank names banknotes forged most often
18:30 Trump wants Russia to be reinstated in G-7 talks
17:50 Amnesty International demands from Russia to release Sentsov
16:55 Air strikes kill at least 44 in Syria's Idlib â€" media
16:31 Ukrgazvydobuvannya opens another gas field in Ukraine's Kharkiv region
16:08 Expert says nothing to change if "DPR" leader replaced
15:43 IMF to assess law on anti-corruption court passed by Ukraine's parliament
15:17 Russian-led forces actively equipping fire positions in Donbas â€" Ukraine's Def. Ministry
14:54 Groysman asks Naftogaz to review $46.3 mln remuneration to its employees after win over Gazprom
14:20 FIFA excludes Russian singer who backed Ukraine rebels â€" media
13:56 Ukraine's Foreign Ministry: Balukh's life under threat
13:32 Canada to increase assist ance to Ukraine â€" Canada's defense minister
13:09 Ukraine's anti-corruption court may consider first cases in early 2019 â€" Parl't Speaker
12:40 Australian government joins U.K. in state boycott of World Cup in Russia â€" media
12:18 Mattis: Success of defense reform in Ukraine directly connected with U.S., NATO nations security
11:51 Turkish FM: Turkey not to recognize annexation of Crimea
11:13 Ukrainian activist Kolchenko stops hunger strike in Russian prison
10:47 Ukraine's parliament ratifies Ukraine-France deal for supply of Airbus helicopters for Interior Ministry
10:12 U.S. calls on Russia to withdraw its forces from Donbas
09:46 Reuters: Oil prices stable on Venezuelan supply trouble, but surging U.S. supply looms
09:24 Escalation in Donbas: Ukraine reports 4 WIA's amid 37 enemy attacks
08:55 NBU weakens official forex rate to UAH 26.17 to dollar
07 June, Thursday
23:30 IMF comments on finance minister's dismissal in Ukraine
23:10 Russia starts massively transporting coal from occupied Donbas â€" MP
23:00 Interview NABU Auditor Volodymyr Vasylenko: Very often, police and courts act not as law enforcers but as law violators... NABU is called to defend law; therefore, its activities must remain within the legal framework
22:30 Venice Commission praises Ukraine's newly-adopted law on anti-corruption court
21:50 Over half of Ukrainians have no trust in banks â€" study
21:30 Ukraine's NSDC secretary Turchynov defies Putin's threats over Donbas
21:10 Oksana Markarova appointed Ukraine's acting finance minister
20:50 NATO tells Russia to stop meddling, in first talks since Skripal case - media
20:30 Ukraine boosts electricity exports by 25% in Jan-May
19:50 Ukraine may introduce "old age" tax on used cars imports
19:10 Sweden approves Nord Stream 2 application
18:30 Putin comments on possibility of Sentsov swap
17:50 Opinion Military exercises in Crimea: What is Russia preparing for?
16:52 Ex-Shakhtar Donetsk's striker Ferreyra signs deal with Benfica
16:29 Experimental Ukrainian clinic successfully creates four 'three-parent babies' for infertile women â€" media
16:01 U.S. Assistant Secretary: Ukraine and Georgia part of the West
15:40 Putin promises "drastic consequences for Ukraine's statehood" if it tries to liberate Donbas
15:17 Cyprus court "unfreezes" assets of Akhmetov's SCM
14:55 Ukraine's parliament sacks finance minister
14:36 Savchenko sues Ukraine's parliament
14:08 Ukraine's parliament eventually passes law on anti-corruption court
13:40 Sales of new cars in Ukraine grow by 10% in Jan-May
13:15 Kira Muratova, renowned Ukrainian filmmaker, dies at 83
12:54 National Bank transfers almost US$650 mln to state budget in May
12:32 Russia changes tactics of war in Donbas â€" Turchynov
12:03 Kupala Night Festival in Belarusian Alexandria to feature Ukrainian Cultural Days
11:41 U.S. imposes sancti ons on Ukrainian airline over support of Iranian airlines
11:17 Britain calls on Russia to release Ukrainian political prisoners
10:56 OSCE records over 170 explosions in Donbas within one day
10:31 Trending Borys Lozhkin has become the Vice-President of the World Jewish Congress
10:10 PEN America demands Sentsov's immediate release
09:48 Australia's GrainCorp opens firm in Ukraine â€" registry
09:19 JFO: Ukraine reports 2 KIA's, 2 WIA's amid 25 enemy attacks in past day
08:55 Reuters: Oil prices rise on Venezuelan supply troubles, but U.S. output surges
06 June, Wednesday
23:41 OSCE's Apakan: Security situation around Donetsk Filtration Station remains critical
23:17 NBU wea kens official forex rate to UAH 26.16 to dollar
22:58 Ukraine to miss forex reserves target after IMF loan delays: Reuters poll
22:26 NATO ministers expected to okay 'Four Thirties' Initiative: Stoltenberg â€" media
21:32 SBU confirms authenticity of leaked "hit-list" of 47 journalists â€" BBC
21:04 UN Security Council condemns continuous ceasefire violations in eastern Ukraine
20:15 Revenues of local budgets across Ukraine rise 24% in Jan-May
19:10 Ukraine's Constitutional Court greenlights abolition of parliamentary immunity
18:30 Rada's Budget Committee backs dismissal of finance minister
17:50 Poroshenko: Donbas seeing hot phase of war, not "frozen conflict"

All news

What do you think about our new website?
Share your opinion
By continuing to browse www.unian.info, you acknowledge that you have read this website's Terms of Use and agree to the Privacy Policy
Source:
Google News Ukraine
|
Netizen 24 Ukraine