Ukraine's public broadcaster struggling for state support


We use cookies to improve our service for you. You can find more information in our data protection declaration.
More info OK
Inhalt
Navigation
Weitere Inhalte
Suche
Choose from 30 Languages
Albanian Shqip
Amharic አማርኛ
Arabic العربية
Bengali বাংলা
Bosnian B/H/S
Bulgarian Ð'ългарски
Chinese (Simplified) 简
Chinese (Traditional) 繁
Croatian Hrvatski
Dari دری
English English
French Français
German Deutsch
Greek Ελληνικά
Hausa Hausa
Hindi हिन्दी
Indonesian Indonesia
Kiswahili Kiswahili
Macedonian Македонски
Pashto پښتو
Persian فارسی
Polish Polski
Portuguese Português para África
Portuguese Português do Brasil
Romanian Română
Russian Русский
Serbian Српски/Srpski
Spanish Español
Turkish Türkçe
Ukrainian Українська
Urdu اردو
Wrong language? Change it here DW.COM has chosen English as your language setting.
Europe
Ukraine's public broadcaster struggling for state support
Ukraine's public broadcaster is being modernized with Western help. But with just half a year until the country's presidential election, the outlet is not finding much political backing domestically.
Ukraine's media landscape is not particularly diverse. Indeed, most of country's television and radio stations are owned by businessmen with close ties to the political class. President Petro Poroshenko, for example, owns his very own news channel, although he has officially relinquished control over the station.
Now, things appear to have gotten worse: Ukraine's public television station UA:Pershyi, or UA:First in English, has had its analogue broadcasting service suspended. The official reason is outstanding debt for transmission services provided by a state-run company.
Read more: Could a rock star become Ukraine's next president?
The result is that just half a year ahead of Ukraine's presidential election, people in the countryside are cut off from public television. "It is an absurd situation," the acting director of the Ukrainian Institute of Media and Communication, Diana Dutsyk, told DW. That's because, she explained, analogue broadcasting services are often the o nly option available in rural Ukraine. That the country is currently embroiled in civil war only makes the situation more unacceptable, Dutsyk added.
Western money and pressure
For decades, UA:Pershyi was part of Ukraine's state broadcasting operation. Since 2017 and with support from Germany and other outside parties, the television station is gradually being modernized and is now part of country's new public broadcasting company, UA:PBC. This rebranding was kicked-started in the winter of 2013 with the rise of Ukraine's pro-Western Europe protest movement. However, the process was dogged by setbacks as Ukraine's government initially showed little interest in the idea. Western pressure reportedly helped push the project forward.
Savin heads the international effort to modernize Ukraine's public broadcaster
The European Commission has pledged €5 million ($6 million), and Germany's Foreign Ministry €1.5 million, to help Ukraine establish a modern, multimedia news station. Kyryl Savin of the DW Akademie, who runs this international initiative, says that preparations are currently underway to launch the project. "I hope construction work on the station will begin in October," he said. The station's new headquarters is set to be completed by 2020.
It will mark a major change in the country's media landscape. In the past, Ukrainian public broadcasting produced low-quality content with government-friendly overtones that reached very few viewers. Now, new television formats have been planned that emphasize investigative reporting and critical analysis.
Read more: Ukraine: "Reporting on a process affecting us all"
"The station is basically independent and autonomous from the government," said Dutsyk, though she conceded that there is still room for improvement in its political reporting.
German ambassador demands support
As Ukraine's analogue television broadcasts were gradually being switched off over the past few weeks and months, an exception was made for UA:Pershyi. The regions in eastern Ukraine bordering rebel-controlled Donetsk and Luhansk kept receiving its analogue signal. And similarly, residents in these parts of Ukraine can receive its programs digitally or via cable. But given the problem of chronic underfunding, it is unclear how much longer that will continue.
Amid funding concerns, residents in war-torn eastern Uk raine may soon lose public broadcaster access
Ukrainian law stipulates that UA:PBC should receive 0.2 percent of the previous year's state budget. However, parliament decided to only grant half of this sum for 2018, or the equivalent of €23 million. That amount is a major problem, according to UA:PBC financial director Rodion Nikonenko. "There is enough money to pay our employees' salaries," he explained, but not to run the station or produce any programs.
On Wednesday, the European Broadcasting Union (EBU), an alliance of public media outlets, called on the Ukrainian government to provide UA:PBC proper funding. "The EBU is extremely concerned about the future of public service media in Ukraine after broadcasts from EBU Member UA:PBC were terminated," the organization said in a statement.
Read more: Politics, powers, and struggle over Ukraine's Orthodox church
Germany's ambassador in Kyiv, Ernst Reichel, took to Twitter a day later, urging Ukraine to swiftly address UA:PBC's dire financial situation and guarantee funding for coming years. The country must ensure the station is "fully operational" ahead of the upcoming presidential election, he said.
Suppressing investigative journalism?
Svetlana Ostapa, who sits on the UA:PBC supervisory board, suspects the government decided to switch off analogue broadcasting for political reasons. In light of the upcoming presidential election, Ukraine's leadership is displeased with the station's investigative reporting and the fact that authorities "can no longer order it around," she said.
Denis Bihus, who hosts the station's investigative show "Nashi Hroshi" (Our Money), agrees. He said the government is deliberately withholding funds as an indirect form of "punishment."
DW recommends
Donetsk attack: Is peace in Eastern Ukraine doomed?
Moscow called the high-profile killing of a pro-Russian separatist leader in Ukraine's breakaway Donetsk region "a provocation." DW spoke to experts about what the brutal murder means for long-stalled efforts at peace. (03.09.2018)
Ukraine's Yulia Tymoshenko to run in next year's presidential election
The two-time ex-prime minister, who spent three years in jail for corruption, says she will run against Petro Poroshenko. Although she enjoys undying support in some quarters, many voters see her as part of the problem. (20.06.2018)
Could a rock star become Ukraine's next president?
The unofficial start of Ukraine's presidential race begins on August 24. After years of unrest, Ukrainians are clamoring for new politicians and appear ready to throw support behind their most famous rock star. (24.08.2018)
Ukraine: "Reporting on a process affecting us all&quot ;
A new TV editorial team will soon be reporting on major changes in Ukraine. Their new TV magazine will focus on the country's ongoing decentralization reforms, and DW Akademie is getting the team ready for the launch. (23.08.2018)
DW Akademie in Ukraine
In Ukraine, the DW Akademie is committed to achieving diversity of opinion and balanced reporting by building up public broadcasting, training journalists and teaching them skills they need as professionals. (12.06.2018)
Politics, powers, and struggle over Ukraine's Orthodox church
Patriarch Bartholomew of Constantinople may grant Ukraine its own church, and Moscow Patriarch Kirill is not happy about it. The two dignitaries are also rivals locked in a struggle within the Orthodox world. (02.09.2018)
Date 28.09.2018
Author Roman Goncharenko
Related Subjects Ukraine
Keywords Ukraine, media, journalism, UA:Pershyi, UA:PBC, public broadcasting
Feedback: Send us your feedback.
Print Print this page
Permalink https://p.dw.com/p/35fxt
Related content
Austrian Interior Ministry under fire for plans to curb media 25.09.2018
Austrian police should minimize the amount of information they share with "critical" media outlets, according to a leaked email. The ministry, controlled by the far-right FPÖ, wants more focus on suspects' nationalities.
German ZDF and ARD public broadcasting household levy ruled constitutional 18.07.2018
Germany's top court has ruled a monthly fee levied on every household to fund public broadcasters is constitutional. The fee brings in €8 billion a year and has had its critics, and its supporters.
Fugitive oligarch and equestrian patron denied German visa 18.09.2018
In Ukraine, oligarch Oleksandr Onyshchenko is a wanted man. For a while it looked like he'd find refuge in northern Germany. He promised investments and big equestrian games in return. But the plan didn't work out.
Date 28.09.2018
Author Roman Goncharenko
Related Subjects Ukraine
Keywords Ukraine, media, journalism, UA:Pershyi, UA:PBC, public broadcasting
Send us your feedback.
Print Print this page
Permalink https://p.dw.com/p/35fxt
Advertisement
News bulletin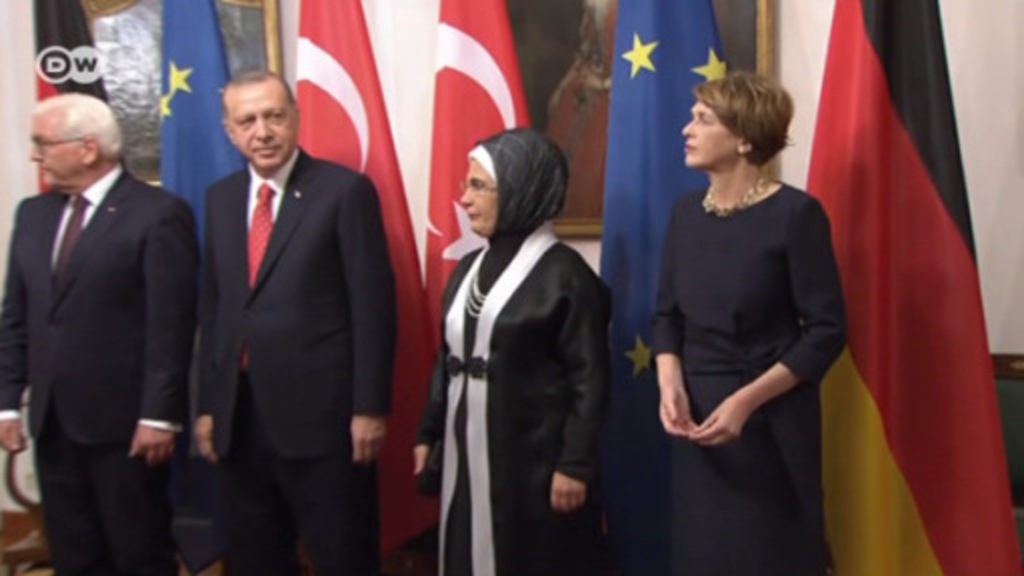 Top stories in 90 seconds
DW News presents the most important news â€" in brief, quickly and up-to-date.
Europe
Lech Walesa: Poland's current leaders 'are either traitors or complete fools'
German, Turkish presidents exchange barbs during state dinner
Poisoned Pussy Riot activist: The Kremlin was sending a 'warning sign'
German FM Heiko Maas calls for UN Security Council reform
Source:
Google News Ukraine
|
Netizen 24 Ukraine